Hi Everyone!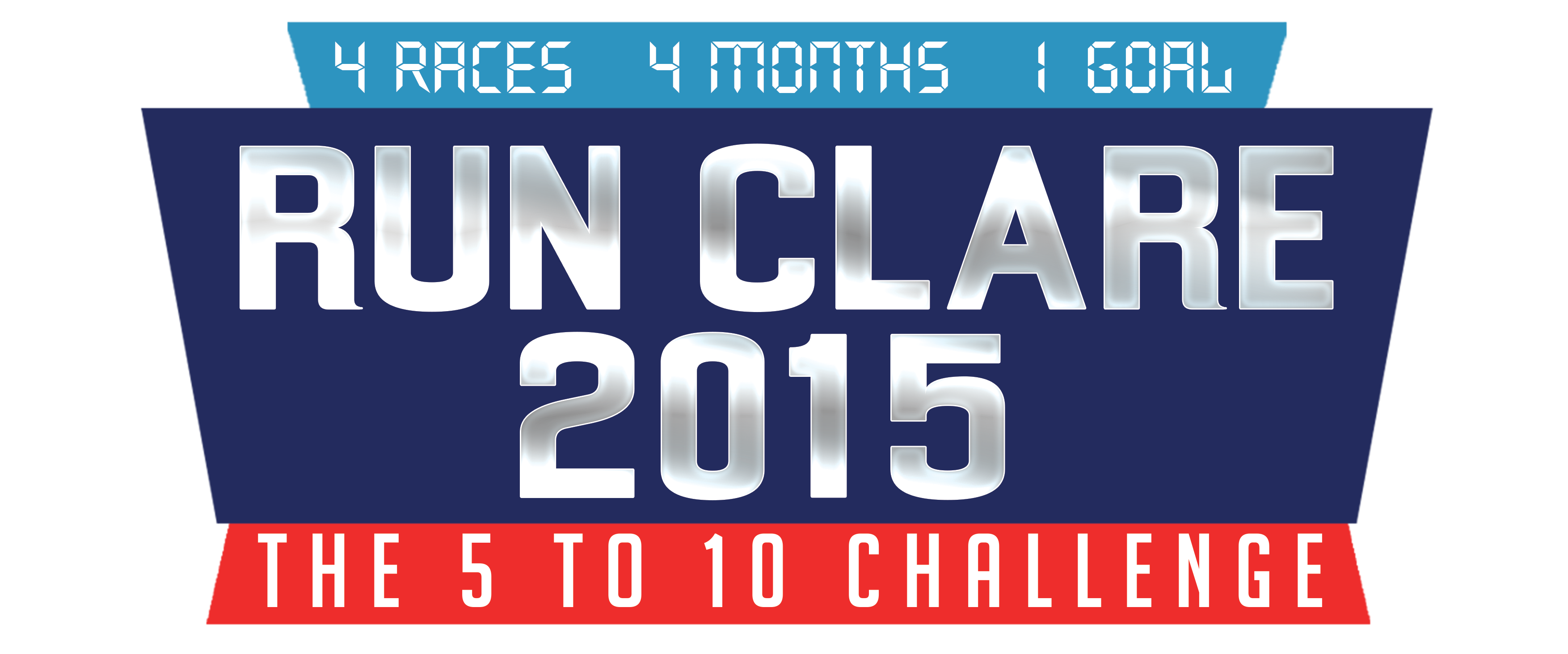 At this stage the Run Clare Series is a distant memory, having finished in April. For me it may now be only a memory but its a lasting memory, of a Series that I will never forget.
What is the Run Clare Series?
The Run Clare Series involved 4 races and saw participants going from running 5k up to 10 miles within 4 months. Their tag line reads "4 races, 4 months 1 goal". The 4 races were throughout Co Clare, Ennis, Quilty, Ennis again and Kilnaboy. Registration for the event opened the previous year with an early bird rate of €50 if you signed up for all 4 races. Participants of the 4 races received a personalised number (for the first 250 registered) t-shirts, medals, goodie bags and a plaque.
Resolution Run 5K - Ennis
I struggled around the 5K course but I never allowed myself to walk and I completed the race in 34.51 so I completed it un under my target time of 35 minutes. I felt a great sense of achievement as I had completed the 5K non stop and for me this was huge. It was such a great feeling to start the series on a high!
Michael Egan Memorial 5 Miles - Quilty
The second race was a 5 mile run in Quilty Co Clare, along the beautiful West Coast. We honestly couldn't have asked for nicer scenery. I had been dealing with a pulled muscle in my back following a hike in the burren. I didn't feel prepared but with all of that being said I pushed on and wouldn't let anyone stop me from running. I had hoped to run the 5 mile in under 50 mins but instead I ran it in 55.42 mins. I know I didn't reach my aim but I did well considering the week I had prior to the run. I felt such massive nerves building before this race but my friends, family and fellow runners were so motivating and encouraging. They always know what to say to me beforehand to put me at ease.
The scenery was beautiful on this race. We ran along the Atlantic Coast, which distracted me from my negativity! All of the other runners, and spectators, were hugely encouraging, which was needed at times!
Eamon Moloney 10K - Ennis
The
Eamon Moloney Memorial 10K
was my second attempt at a 10K. It was, for me, the most enjoyable race of the series. I had ran a 10k the previous week and it didn't go too well so I was hoping that I would have a better result, which I did. I crossed the finish line in 1 hour and 7 mins and 22 sec.
The course itself was relatively flat except for the 2-5k markers, where we had a number of hills. There was nothing that I felt I couldn't manage though. Immediately after the race our times were available. I thought this was great as we were anxious to see how we actually go on! The race also had pacemakers available to those who wished to aim for a particular time. They were for 40 mins, 45 mins, 50 mins, 55 mins and 60 mins. I did not stay with any pacemaker because I knew that the pace would be too much for me but my sister stayed with the 55 min pacemaker and came in just under 55 mins.
Sonny Murphy Memorial 10 Mile - Kilnaboy
The final race in the Run Clare Series was the Sonny Murphy Memorial 10 mile race in Kilnaboy Co Clare (to those of you who don't know where Kilnaboy is, it's the home of Fr Ted's house!). The morning of the race was very wet and generally miserable, but the day turned out to be a beautiful one. It was a sunny blue sky kind of day and so was perfect for the final event in such a brilliant series.
The race started, and finished, at Kilnaboy church and took us past The Burren National Park. The views were fab and a bit distracting, which is a good thing as it stops you from thinking about actually getting over the finish line in one piece! It was a hugely supported race by locals, tourists and passersby.
I was quite sick the week leading up to the race, having been off work sick so needless to say I didnt get any training runs done prior to the race. I was on bed rest for a week. By the Friday prior to the race I felt somewhat good again and by Saturday I had made up my mind to participate in the 10 mile. I decided that I would run as much as possible and when I felt weak I would walk and that's exactly what I did! I ran slow and steady until just after the 4 mile marker and I then began to walk for 1/2 mile before running again for 1 mile. I repeated this pattern until the 9 mile marker, where I ran steadily until the finish line. I crossed the line in 2hours 0 mins 59secs. I couldn't but be happy, even though I didn't run the full race, I did well considering how sick I was all week!
What Made It So Special?
This is a unique series. As far as I am aware (I may be wrong) there is nothing else like it in the country. The aim is to run 4 races in 4 months but to reach one goal of running 5K to 10 miles. The series provides a fantastic opportunity for runners of all skill levels to push themselves to their limit. For more experienced runners it was an opportunity for them to aim to not only participate in a 4 race series but to also aim to win the series. For beginners like myself it was the push needed to improve stamina by running longer distances.
One thing that we commented on was the distance that people had travelled to participate in the series. We looked at peoples t-shirts and saw people from:
Duleek
West Waterford
West Limerick
Loughrea
Cork
That alone was a tribute to how well the series was organised and how well the word had spread.
We found that the series was a great opportunity to get some "Me time" and also to use it to meet people that you may not meet on a daily basis. Being from Co Clare myself but now living in West Limerick I found it great for catching up with people from home. I found that all participants that I spoke with were so friendly and encouraging. It felt like a little community. That might all sound a little cheesy but its true. I have made some lovely new friends and received some fantastic advice that I have taken with me on every run that I have completed following the series.
If I could find a negative of the series (Which is hard) is that it only went on for 4 months. I would love if it was run for 6 or even 8 months but then again I wasn't the one organising the event and I'm sure that it took a huge amount of effort, energy, resources, time and commitment.
Why Participate?
I truly believe that if I had not signed up for the Series (Which I did in a complete hormonal moment of madness!), I would not be capable of running the distances that I now comfortably run. The buzz and atmosphere was amazing and the encouragement from fellow runners and spectators was enough to make anyone feel great about themselves. The feeling of achievement and self fulfilment and motivation to run further and further was enough for me to push myself to reach the distance.
This series is great for runners of all levels but for beginners like myself it is a great push and motivation. At the start its easy to think that you wont reach the 10 mile distance but after each race that feeling changes from pessimism to optimism.
Thank you to everyone involved for producing such a hugely successful event. The turnout at each race is a credit to all of the time, energy and hard work that went into the Series. I am already looking forward to what lies ahead in 2016!
You can find more information on the Run Clare Series
here
. They also have a Facebook page, link
here
, as do Running in Clare, link
here
. I found that these pages were fantastic as they were regularly updated with race info and they also shared details of other races that were not part of the series.
The team are running a new 3 race series, the Run 5K Series and you can find all the details
here
. If you want to sign up I would do so asap as registration closes very shortly.
Until the next time, always remember to be:
Dee-Termined To Glam & Glow