Saturday saw Race 1 in the Run Clare Series 2016, the 5K Resolution Run. Having thoroughly enjoyed last year's series, link
here
to last year's post, I was delighted to be participating in the series again this year. The series is such a unique event and gave me the motivation and encouragement to get out and start running again. The series involves 4 races (5K, 5 miles, 10K and 10 miles) over 4 months. My running training has been lacking slightly so Saturday's 5K was a great push to get back to where I was with my training.
The day itself was horrible. It was very cold, wet and miserable. There was a cold damp feeling in the air but that didn't stop almost 600 people from turning up the Lee's Road Sports Complex on the day. As usual there was a good mix of beginners and seasoned runners and the buzz was as good as if the sun was shining!
The Route
The route was the same as last year. We started along Drumcliffe Road, just past the entrance to the Sports Complex itself. Turning right we ran along the old Lahinch Road then turning left onto the N85 where we ran uphill before turning left back on to the Drumcliffe Road, finishing just before the entrance to Lee's Road Sports Complex. The first half of the 5k was the hardest with a number of inclines to deal with. Shortly after a long steady incline at the 3K mark the road levelled out so finishing the 5K was much easier. The finish line was along the straightest part of Drumcliffe Road.
My 5K
This year both Orla and I signed up for the Run Clare Series 2016, along with Caroline, Mary and Christina. It's always lovely to arrive at a race and meet others who are as excited as you are to be taking part. Each of us is at a different stage of our training, with some in better shape than others but we are all of the same mindset and that is that we are participating to enjoy ourselves and if a PB comes out of it then bring it on! The cold and rain made the day itself so miserable but luckily it didn't dampen our spirits. We stayed in my car until the heaviest of the rain had passed before making our way to the start line where we had a fast warm up, and I mean fast! The buzz at the start line was fantastic.
As usual we each said our goodbyes and each ran the race on our own merits. I knew before starting that my fitness was nowhere near where it needed to be but I knew that if I focused I'd reach the finish line without stopping to walk. I set out with the aim of beating last year's time. This year I decided to time myself and use this as a form of motivation. It was great because I knew at each point whether I needed to push myself on or not but this also had its negatives as I was constantly looking at the time trying to figure out whether I needed to push myself even more or if I could slow up a small bit.
As usual my head began to take over. I don't know why I let myself listen to the negativity but I did manage to ignore it and pushed myself to finish without walking. Mentally the first 3K were the hardest for me as there were a number of inclines. The mental side of running is always the hardest for me. I think that I can physically push myself more that I give myself credit for, its only when the negativity creeps in that I find it hard to keep going.
What I loved about the 5K on Saturday was that, even though 3/4 of people had finished before me, I was so delighted to see such a huge crowd cheering us on. As usual Orla was waiting at the finish line to cheer me on. I thought at that stage that I had no energy left but I somehow managed to sprint the last 100 yards to the finish line. I beat last years time by 60 secs, crossing the finish line in 33:42 so its easy to see why I had a smile on my face!!!
Lorraine, Jason and all the Run Clare team did another great job in organising this 5K. They organise these event using their passion for running as motivation and that alone is inspiring. The figures speak for themselves really (518 signed up for the series, although not all turned up on Saturday, and approx 120 extra people on the day ran the 5K). Well done guys, looking forward to race 2!


What's Up Next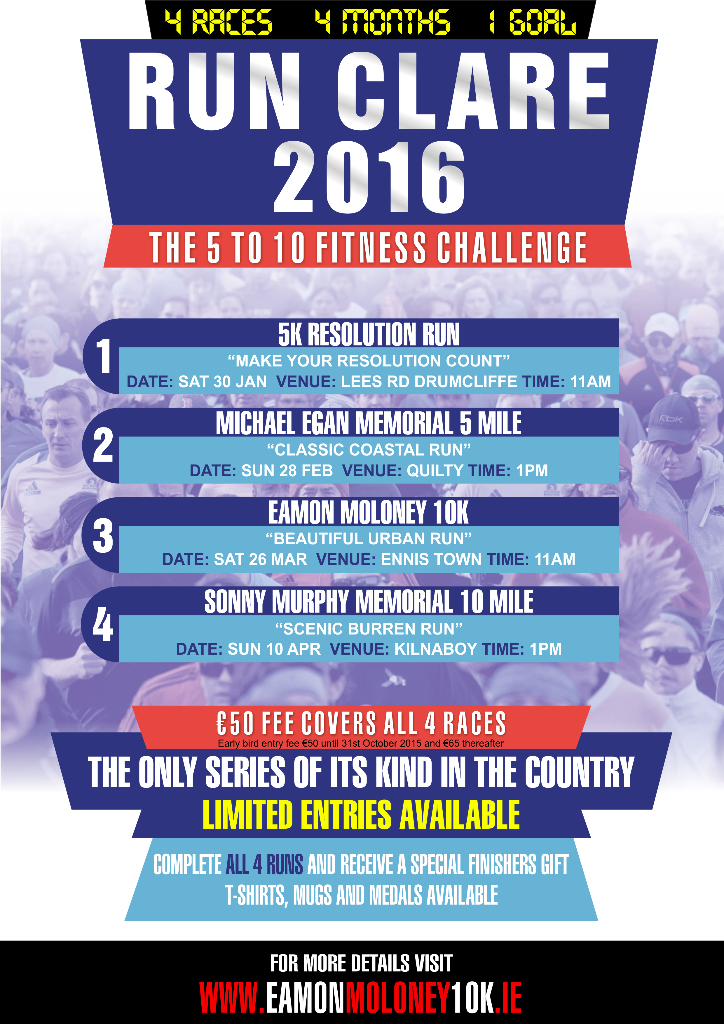 Next up is the Michael Egan Memorial 5 Mile race in Quilty. This is Race 2 of the Run Clare Series. Although entries for the series are now closed, you can still take part in the individual races on the day. I'm hoping once again to beat last year's time at the 5 mile race! With only 3 races left I'm so much closer to getting my fabulous finishers medal! You can get more info on the series and individual events by clicking
here
.